Addressing the Media, Ichagaki One as popularly known by his electorates called for a constitutional reform that can revoke Article 142 of the Constitution that bar anyone of holding office after the expiry of two terms as president.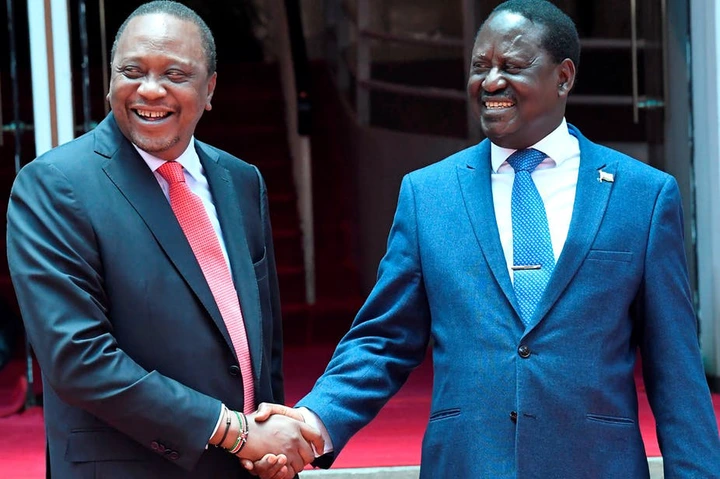 President Uhuru and former prime minister Raila Odinga in a past event
"When Section 2A was repealed, the new law allowed the late President Daniel Moi to contest for the Presidency again, that is what informs my proposal to urge President Kenyatta to seek a fresh mandate of vying for the Presidency," Mr Ichagaki One said.
He regrets that failure to have him contest again will widen the ridge within the Mount Kenya region as leaders are fighting on who should succeed him.
MT Kenya MCAs Caucus chairman Charles Mwangi with EALA MP Oburu Odinga in a past event
"The President is such a charismatic leader and if such a chance will be provided by the referendum, then he should take it knowing that we will support him," he added.
President Uhuru in a past event
If passed, the referendum will bring about a new dispensation, where governors who have served for two-term also seeking re-election.
Also commenting on the senate tag of over the revenue sharing formula, MCA says that its high time that Counties receive money according to what they contribute to the national grid.
President Uhuru in a past event
He urged Mount Kenya leaders not to give up and push for what belong to them despite resistance from their colleagues.
"Mt Kenya must agitate for its rightful share of revenue allocation without a show of desperation, we must also seize the opportunity to know and understand who are our friends," Mr Ichagaki One said.
MT Kenya MCAs Caucus chairman Charles Mwangi
He further advocated for subdivision of the populous Constituencies to ensure proper representation and equity in terms of National Government Constituency Development Fund (NGCDF).
He said currently there is inequity in CDF disbursement since some constituencies are populous than others but they receive the same amount of money.
MT Kenya MCAs Caucus chairman Charles Mwangi
"Kiambu County should be divided into two, Thika County and Kiambu County, Ruiru should also be divided into two as well as Kiharu, Kandara as well as Maragua constituencies to have equality, "he said.