City blogger Gordon Opiyo expressed his frustration online after he sent money to the wrong number.He was transacting online money transfer from Co-OP bank account to MPesa number.
He expressed his frustration stating that the bank didn't respond to him for more than 5 hours until he was forced to contact Safaricom to block the money from being withdrawn.
"How long does Coop Bank take to respond to an urgent message on Twitter? Sent money to a wrong Mpesa number, forwarded message to Coop, no response 5 hours later?" he posted on his Facebook page.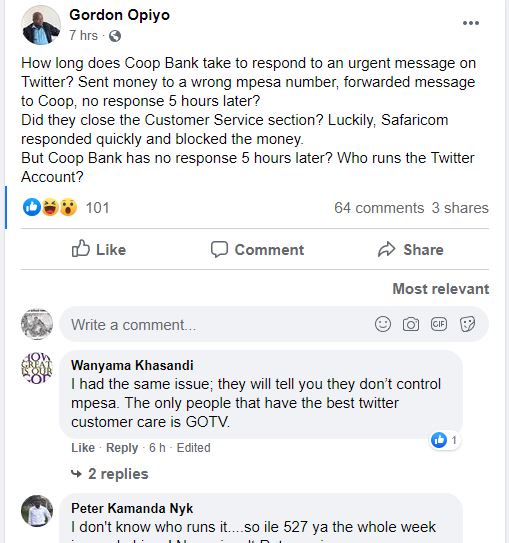 Screenshot that Blogger Gordon Opiyo posted
He congratulated Safaricom for acting quickly and blocked the money.
"Did they close the Customer Service section? Luckily, Safaricom responded quickly and blocked the money.But Coop Bank has no response 5 hours later? Who runs the Twitter Account?" he said.
His sentiment attracted a lot of debate online with some of his followers weighing into the matter.